New Digital Health Product: AliveCor ECG and HR Monitor
There seems to be new health or fitness apps that come out daily. But how often are we really using them? and do they really help us in one way or another?
A new app called AliveCor answers the first question with…"often" and and the second question with a resounding "yes"! The heart rate and ECG product is simply attached to the back on your phone, download the AliveCor app and this enables the user to record an accurate heart rate and ECG readings that can be stored or sent, if necessary, to their physician. Here is what a typical reading looks like: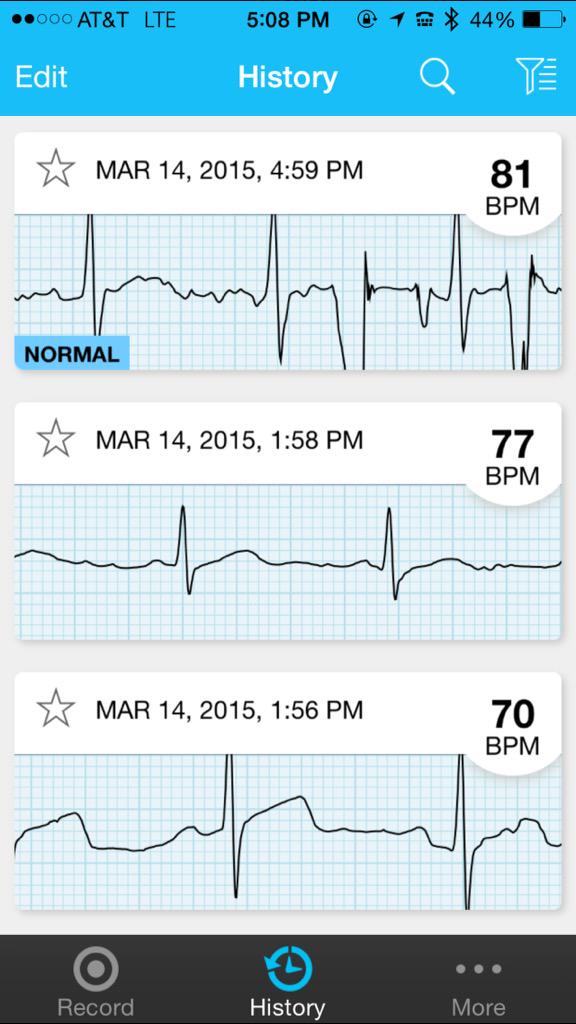 One report shows the global health and fitness mobile app market is worth more than $4 billion (December, 2014), and this could increase to $26 billion by the year 2017. There were more than 46 million people, in 2014, who used a fitness app on their phone in the month of January alone. It is a market that is generating a great deal of money for many companies and it seems like consumers have the money to spend. The Journal of the American Medical Association stated that half of the population who are wearing wearables "is younger than 35 years old and earns more than $100,000 a year."
Digital health products like AliveCor are doing a great job bridging the gap between patient and physician offering another tool for their tool-box, for both parties. Real world applications will continue to grow with innovative products like this.
Additional Reading
Physician review of the iPhone AliveCor ECG heart monitor, the clinical reality of the device.